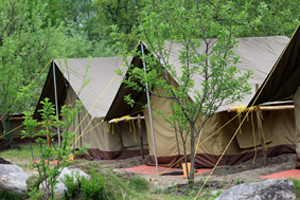 The most natural way of exploring and understanding the majestic beauty of Himalaya is by way of camping. The feeling of breathing, touching and tasting the mountains is deeply rooted with camping. Are you interested to gain such a wonderful feeling? Pack your backpacks right away and join our camp in a lovely valley called Manali in Himalaya. The valley cheers everyone with its sky touching mountains, lush green meadows, evergreen forests, crystal clear rivers and orchards. It has everything that an adventure seeking enthusiast desires.
Our camp at Manali is located amidst apple orchids in the picturesque Manali Valley. The location of the camp provides a perfect view of Peer-Panjal and Dhauladhar western Himalayan range and river Beas. Located on Manali Leh Highway the camp is a paradise for all adventure loving enthusiasts.

Activities: Rock-climbing, rappelling, trekking to Jogini falls, Vashishth hot water spring, Manu temple, Hadimba temple, Manali village, mini expedition to Bhrighu lake at height of 14,500.
Age Group: 12 to 18 Years.
Accommodation: Participants will stay in tents on sharing basis. Separate accommodation for girls and boys.
Thing to Carry: Cotton shirts and pants, woolen pullover, jacket, woolen cap, socks, sports shoes, gloves, bath towel, slippers, rain coat, sunglasses, torch with cells, sleeping material, dinner set (Steel-plate, glass, spoon, bowl),  water bottle, sun block, Vaseline/cold cream, toiletries, soap , needle with thread, pen, a notebook, day pack,  personal medical kit, etc.
Please do not bring polythene bags or any disposable items, ornaments, mobile phones and other valuables. Binoculars and camera can be brought at own risk.

Food: Nutritious and delicious vegetarian food prepared in camp mess will be served Jain food will be available on prior request.
Camp Dates
Batch No.
From
To

1

20-04-2015
Monday
29-04-2015
Wednesday

2

25-04-2015
Saturday
04-05-2015
Monday

3

30-04-2015
Thursday
09-05-2015
Saturday

4

05-05-2015
Tuesday
14-05-2015
Thursday

5

10-05-2015
Sunday
19-05-2015
Tuesday

6

15-05-2015
Friday
24-05-2015
Sunday

7

20-05-2015
Wednesday
29-05-2015
Friday

8

25-05-2015
Monday
03-06-2015
Wednesday
Fees
The fees, per student for a Manali camp is Rs. 10,800/-. The fee is inclusive of accommodation, training, food and travel from Ahmedabad and back.
Cancellation: Minimum:   Rs. 2000/- , Last 20 days: Rs. 5,000/-
The completely filled-in registration form with all details along with the 2000/- advance  payment of the fee should be submitted to the Rock Zone Adventure's Office
Cost Includes: Accommodation in spacious and comfortable tents, Transportation/ transfers as per the itinerary, food, activities, Services of qualified instructors/ guides.
Cost Excludes: Any expenses of a personal nature, Beverages or drinks of any sort, including soft drinks or bottled / mineral water, The Personal porterage / horses for carrying of individual kit or baggage, any other Expenses related to Natural Calamities and any Expenses related to Medical Issues.
Participants need to submit a photocopy of any one Photo ID at the time of registration and the same original Photo ID, seven days before departure. The participants may have to pay fine, wherever applicable in the absence of Photo ID.
Itinerary:
Day 1: Depart from Ahmedabad for Pathankot in the morning.
Day 2: Arrive Pathankot at 15:10 and depart for Manali by luxury bus.
Day 3: Arrive Manali in morning, tent allotment, Orientation meeting, lunch. After lunch small trek to village
Day 4: trek to Jogini falls and visit Vashishth hot water springs, Games in the afternoon.
Day 5: rock-climbing and rappelling in the morning and river crossing and Zip line in the afternoon.
Day 6: Trek to Manu temple, Old Manali village and Hadimba temple, visit to the Manali town. Back to the campsite in the evening.
Day 7: Full day trek to Brigu lake at height of 14500 feet
Day 8: Trek to Anjani Mahade and visit Solan Valley, depart for Pathankot in evening
Day 9: Arrive Pathankot in the morning and depart for Ahmedabad.
Day 10: Arrival Ahmedabad.
Mount Abu Campsite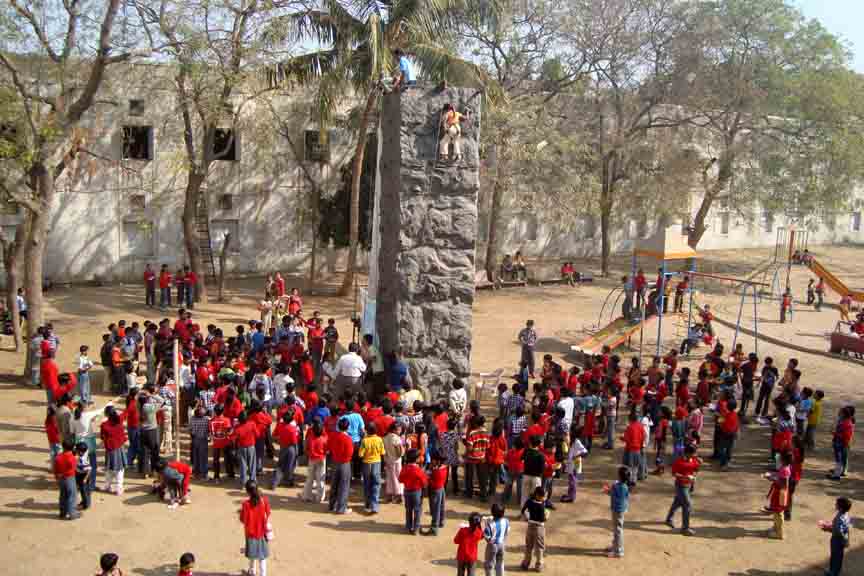 Mobile Mountain
Call us today at
+91.9426407922, +91.9428521011

or
Email us at

mail@rockzone.in

We strive to provide Participant with Top Notch Support to make their Advanture Expertience Wonderful
Copyrights © 2013 & Designed by Pankaj Gorana